Such a wonderful thing to share with your children the gift of kindness. They can learn so many things from this. Most of these books we have read at some time randomly, but I just recently got them all from the library at the same time. Now we simply have to remind our kids to please be kind and they actually think about it (and sometimes do it).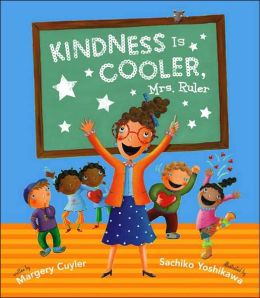 This book is by far our favorite:
Kindness Is Cooler, Mrs. Ruler
by Margery Cuyler, illustrated by Sachiko Yoshikawa
Fun rhyming scheme and great ideas for how to be kind in so many different ways.
Ordinary Mary's Extraordinary Deed
by Emily Pearson
How one good deed from a small girl can change the world.
Zen Ties
by Jon J. Muth
A little more subtle tale of kindness, but the kindness is felt just as much as in the other stories. A panda bear helps three children bestow kindness upon an old woman and she helps them nearly as much as they help her.
How Kind
by Mary Murphy
A very simple book for even the youngest of children, but even my five year old enjoys it's simplicity.
One Smile
by Cindy McKinley
The kids didn't think the illustrations were anything spectacular, but I just love the idea that one smile can have so much power.
The Spiffiest Giant in Town
by Julia Donaldson, illustrated by Axel Scheffler
A great story of kindness and generosity, the "kindest giant in town" helps others and his good deed comes back to him.

Fly Free!
by Roseanne Thong, illustrated by Eujin Kim Neilan
A little different turn of the pass-it-on kindness. If you do a good deed, then it will come back to you.
Paulie Pastrami Achieves World Peace
by James Proimos
A fun book showing that kindness and peace aren't all that difficult to attain.
Kindness to pets
At our house everyone is very good about this, but we do have children visit on a regular basis that are not from a home with a pet. So we like to share these stories of how to show kindness to a pet.
Nico and Lola: Kindness Shared Between a Boy and a Dog
by Meggan Hill, illustrated by Susan M Graunke
A beautiful story about a boy and an animal. My kids are madly in love with this book, perhaps because they are madly in love with our dog.
Please Don't Tease Tootsie
by Margaret Chamberlain
A silly, silly book, but one with a great lesson.
We love new books at our house - if you love any literature on this topic that didn't make my list, please do share!